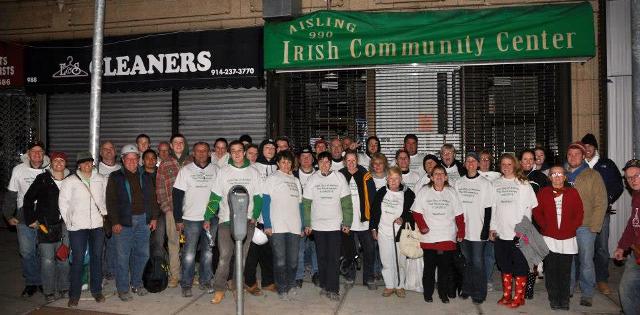 History
In the early 1990's, the Aisling Irish Community Center (AICC) began as Tír na nÓg (Land of the Young), in St. Brendan's parish in the Bronx. It was run by Sr. Edna McNicholas and Fr. Tom Flynn, who were part of a group of Irish chaplains sent to the United States to help Irish immigrants in the 1980's.
In the early 90's many Irish immigrants began to move to Woodlawn and Yonkers, In 1996, with a leap of faith and very little money, a committee of Irish Immigrants was formed, and space was rented at 990 McLean Ave. Under the leadership of Sr. Edna and Fr. Tom, the committee raised funds and donated their time and talents to open and run the now–renamed Aisling Irish Community Center (AICC).
There have been many changes since the early days of the AICC. In 1988, it continued to expand with the help of local tradesmen who renovated to create the studio where The Flynn School of Irish Dancing could offer a variety of Irish dance classes. 
Fr. Tom and Sr. Edna returned to Ireland in the early 2000's, and a Board of Directors was subsequently formed.  An executive director, support staff, and a clinical social worker were hired to run the AICC. Over the years additional space has been acquired and in 2018 the entire building at 990 McLean Ave was purchased for the AICC. Significant renovations are planned for the near future which will continue the centers goal of meeting community needs by expanding programs and services due to growing demand.
Since its founding, the AICC prides itself with being responsive to the community's needs and cultural interests. The broad range of programs and classes are designed to cater for a large variety of age groups. These include infant and toddler music and playgroups, art, karate, music, traditional Irish Music & dance classes for juniors, youth club, college test prep, computer classes and a community service program for older youth and a wide variety of programs for our thriving senior community including chair yoga, twice weekly hot lunch, book club and monthly card games. In 2018 significant addition to our program offering a range of benefits to the community emerged with the creation of Team Aisling, a running, walking & well–being community-based club. In addition, regular yoga, Zumba and other physical and socially engaging classes for adults continue to support the needs of the local community.
The AICC has also greatly increased its and mental and physical health initiatives over the years. In addition to offering counseling by a Licensed Clinical Social Worker, a base for weekly AA meetings, AICC also offers frequent mental health and broad range of wellness workshops for the community.
The AICC remains an important first stop for newly arrived Irish immigrants, who may need help with adjusting to life away from home and with finding housing and jobs. We anticipate more growth and services in the years to come as we plan for the renovations of our new building and continue to meet the changing needs of the Yonkers and Woodlawn communities.